I had attend to Debian Bug Squashing Party in Tokyo at 24th Nov. 2012. The place was provided by Plat'Home Co., Ltd.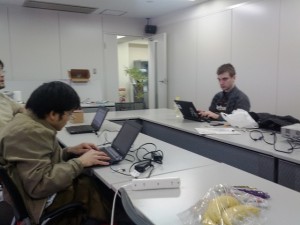 The attendee was about 7 people, it's not so many men.
My big problem is unblocking file-mmagic package. I sent an unblocking request mail, but it has invalid From email address, so I couldn't trace the discussion.
My fault is changing source format to 3.0(quilt). It is a big change for testing.
Now I am making a new package for testing-proposed-update.
It seems about 10 RC bugs had closed by all attendees. Thank you the attendees, especially the cordinator Hideki Yamane.
The network in the place had provied by
OpenBlocks
, the product of Plat'Home.